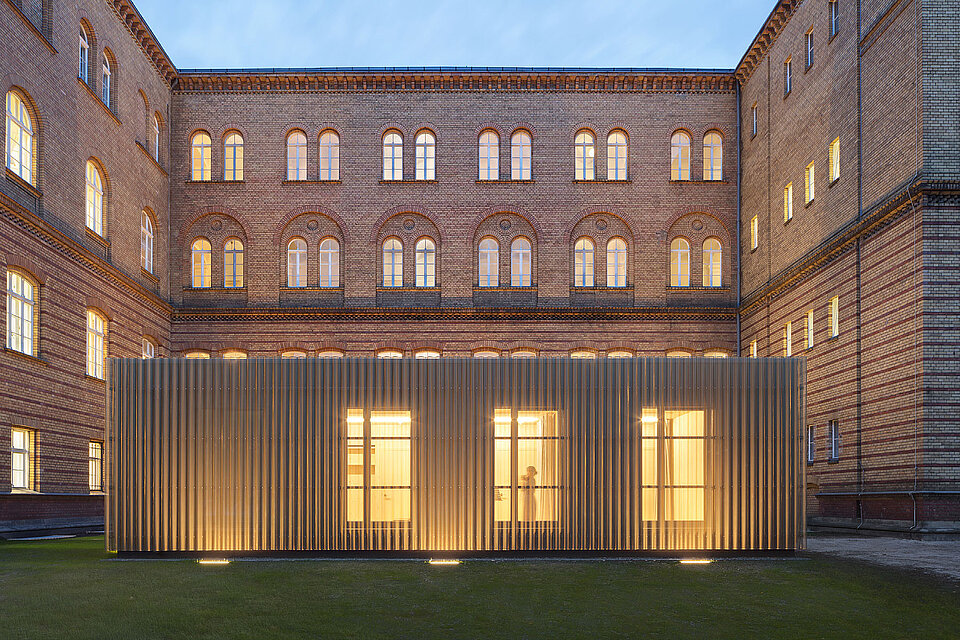 ARCHITECTURE PRIZE
1st PRIZE
Practice Pavilions for Music Students
University of the Arts Berlin (D)
ARCHITECTS TRU Architekten Part mbB, Berlin
INSTALLER HSP Fassaden GmbH, Berlin
MATERIAL TECU® Gold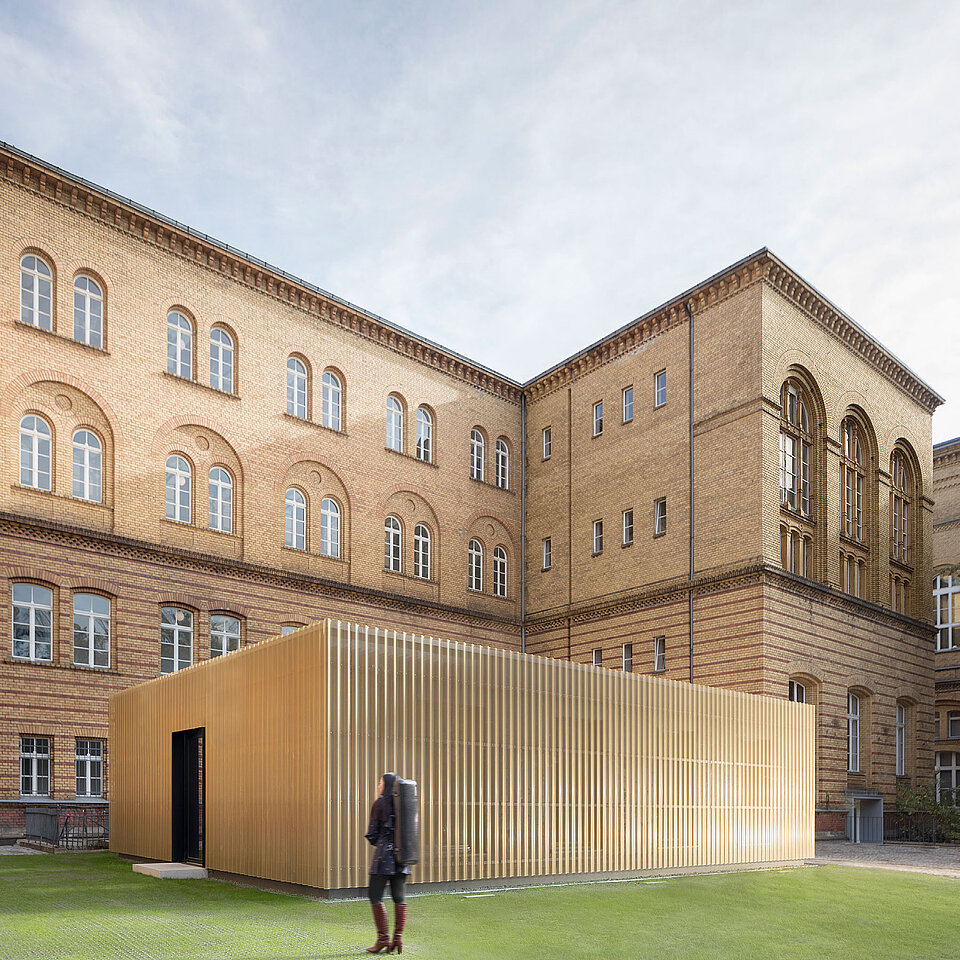 "The challenge was to design two boxes with practice rooms for musicians; the result is a solution that is convincing in every detail, both functionally and aesthetically, and is "appropriate" in the truest sense of the word. The project represents a perfect symbiosis of prefabrication and on-site realisation, simply structured, not overly "important" in appearance for all its perfection and almost poetic beauty. The project development seems to be directly readable in all solution steps, from the initial questioning of the location, to the detailed development of ideas, to the realisation. You can literally see the many sketch sheets that invite you to discover the detailed solutions. And there is much to discover - for example, the reflection of the curtain-like undulating copper façade through the sound-absorbing curtains in the rehearsal rooms. In the overall picture, the pavilions do not offer a set-up, but a perfectly balanced scenario - not built up, but perfectly fitted into the built environment. In some places you see simple containers converted for similar uses, but the ones realised here stand for the humanistic variant."
The Jury's statement
There was an urgent need for additional practice rooms for the students of the Berlin Academy of Music (UdK). The historical building did not offer adequate possibilities for a corresponding extension. The solution to the problem was found in the placement of two new buildings in the inner courtyards.
Two golden pavilions now complement the historic school building on Bundesallee in Berlin. The pavilions occupy the previously empty inner courtyards and pick up the colour of the brick walls of the old building. Fourteen practice rooms, including two rooms equipped with concert pianos, offer students the opportunity to work intensively with their instruments. A specially developed soundproofing concept ensures trouble-free use of the individual rooms even at peak times. Reverberation can be individually regulated via heavy curtains. Natural light, built-in cupboards and mirrors complement the high usability and comfort of the small room units. These were built in solid wood construction, prefabricated as modules and erected on a reinforced concrete slab, separated from each other in terms of sound insulation. The roof of each module juts out towards the centre of the building, forming the corridor designed as a coloured passageway. Uniform light wood surfaces create a pleasant atmosphere inside the practice rooms.
On the outside, the modules are clad in solid wood panels that serve as a weather skin and as a mounting base for the beautiful copper corrugated metal façade that swings around the building. The geometries of corrugation and perforation were individually developed to achieve lightness and elegance, with the very special golden surface creating a lively dialogue between the old and new buildings. Last but not least, the perforated façade also functions as a privacy screen against unobstructed views from outside, without disturbing one's own view.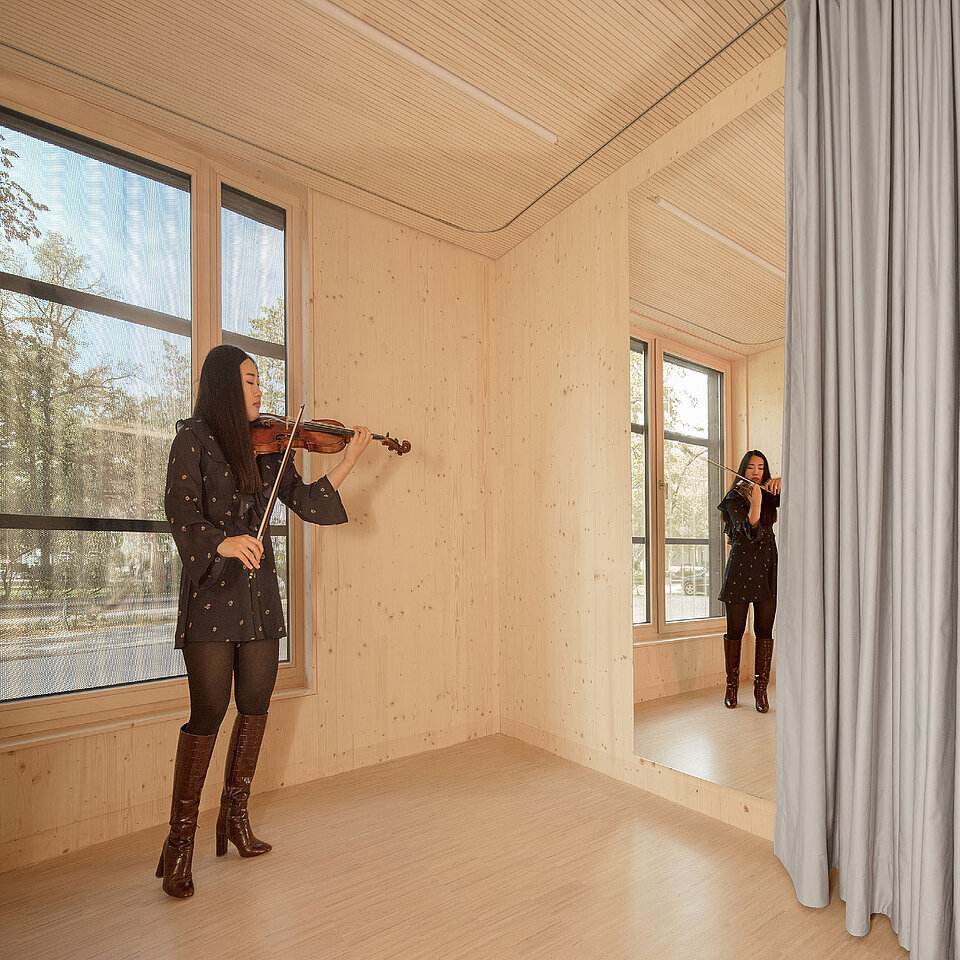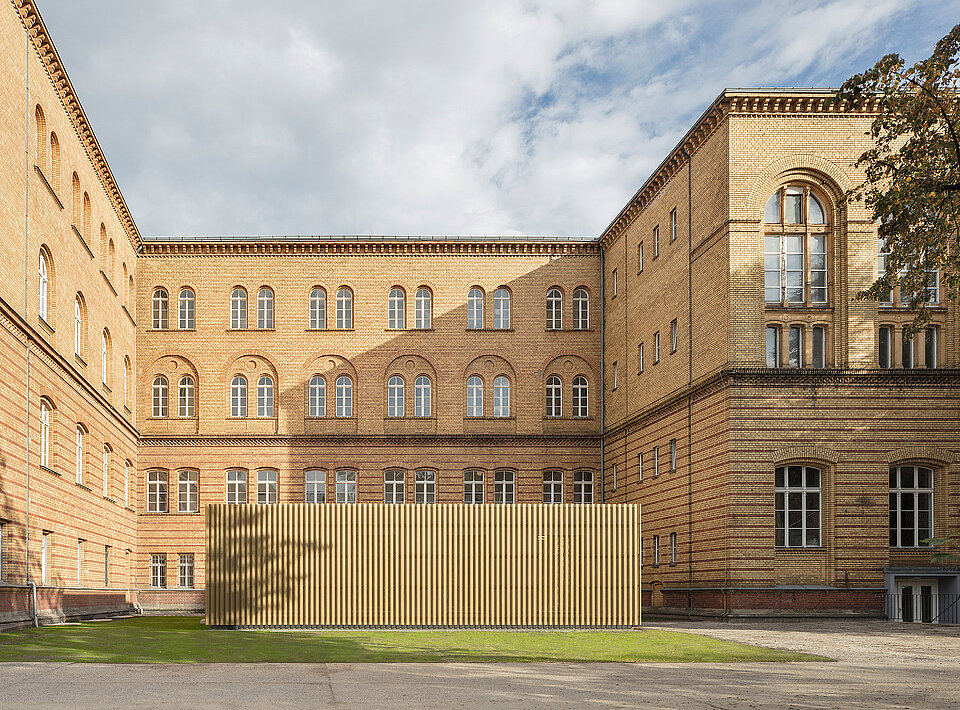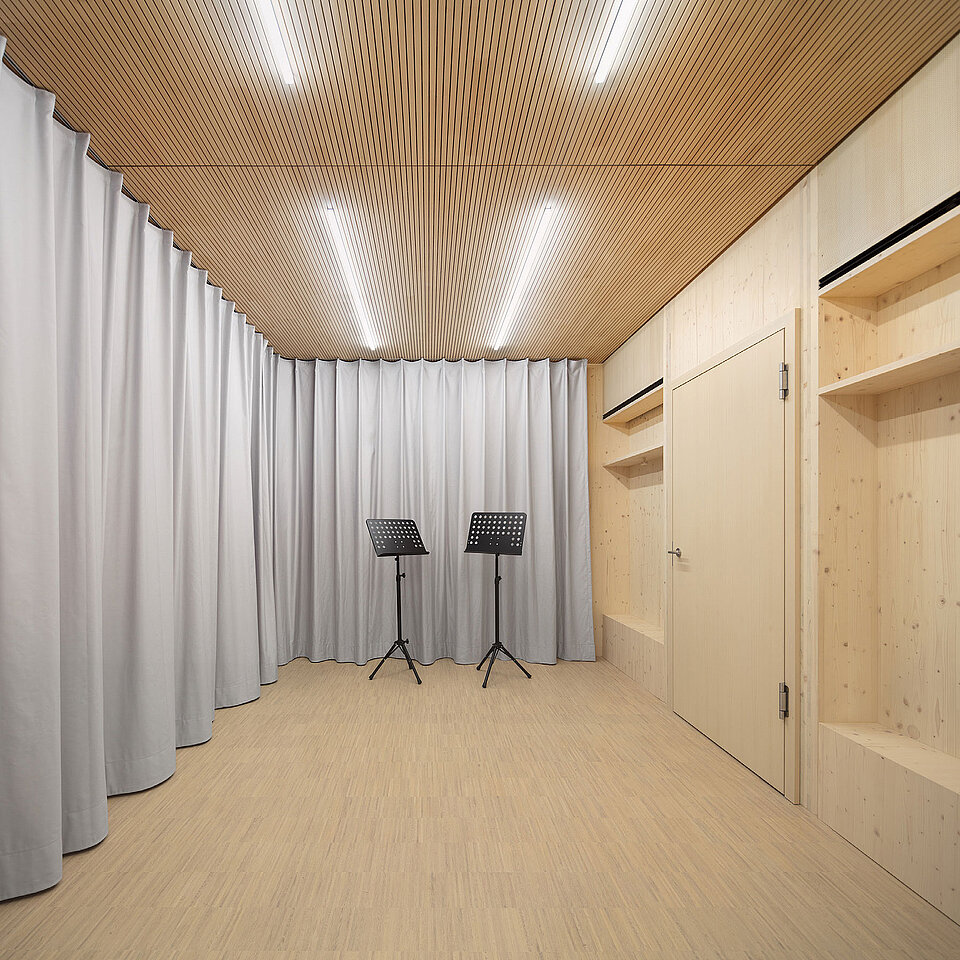 PHOTOS . WERNER HUTHMACHER