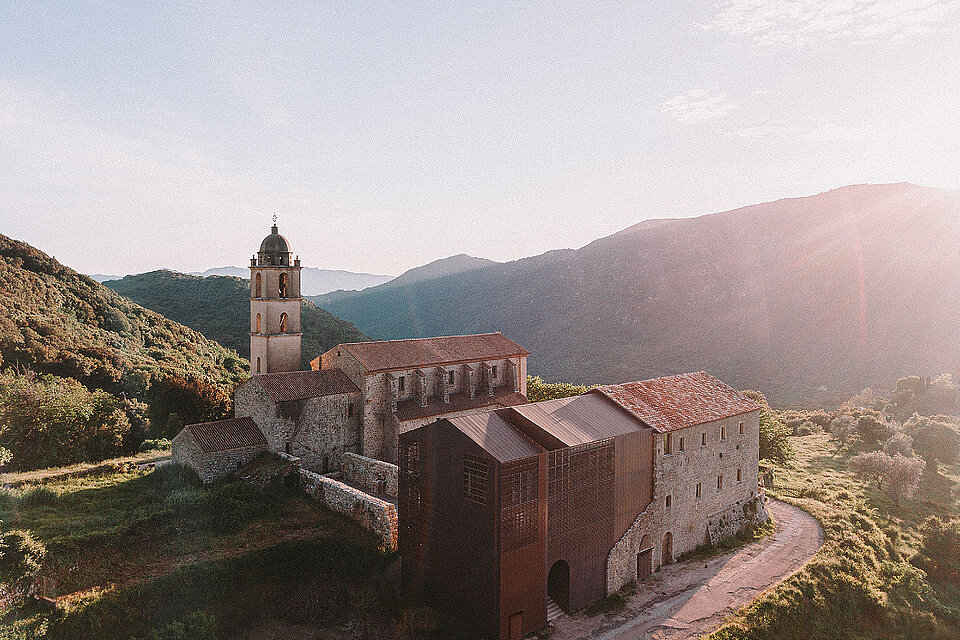 ARCHITECTURE PRIZE
1st PRIZE
The Rebirth of the Convent Saint-François
Sainte-Lucie de Tallano, Corsica (F)
ARCHITECTS Amelia Tavella Architectes, Aix en Provence (F)
INSTALLER Soluzinc (F) Metal forming; Fusella (F) Installation
MATERIAL TECU® Classic_punch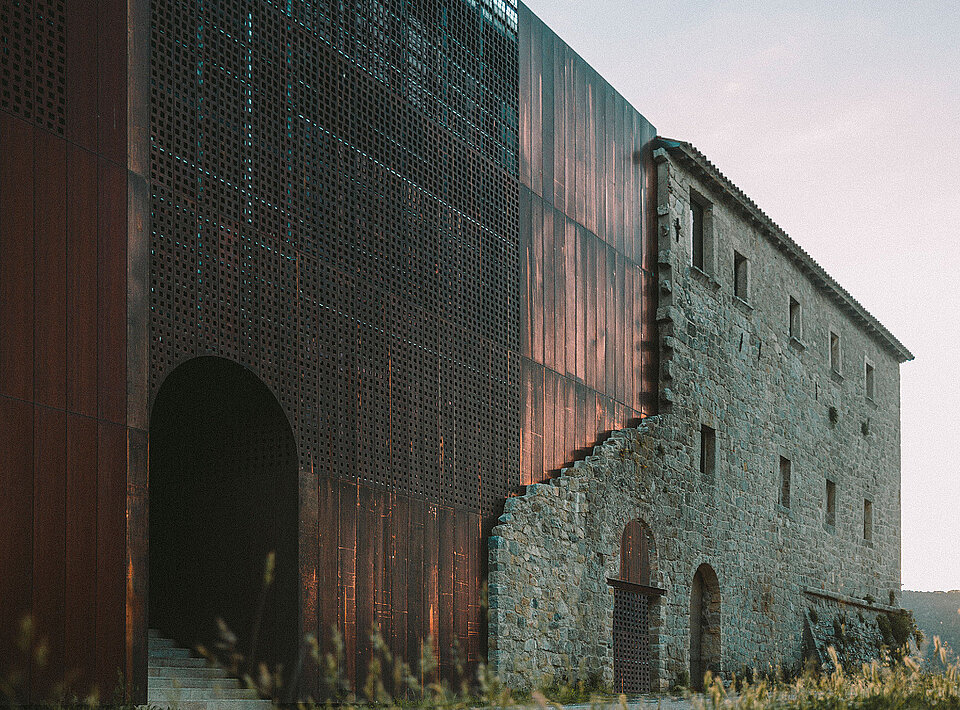 "A fascinating material language characterises this project. The handling of the solidity of the structure was convincingly mastered by skilfully emphasising the lightness of the partially perforated metal. The copper surfaces bind the simple geometric structure to the stone in perfect harmony. The alternation between perforated and closed copper surfaces is also very intelligent, picking up on the natural individual development of the stone façade and reflecting it impressively.

The result of the restoration conveys a great respect for the legacy of the site. A disciplined play with materials and their properties result in a precisely executed and rich complement to the existing building. Thus the aesthetics of the ensemble, reinforced by its romantic-like communication with the surroundings, is also carried by discipline and precision, which, for all their emotionality, are architecturally in the foreground."
The Jury's statement
Amelia Tavella, awarded the title of Chevalier in the French National Order of Merit (Ordre national du Mérite) for her work, was in charge of the renovation and extension of the Saint-François monastery in Sainte-Lucie de Tallano on her home island of Corsica. Built in 1480, the listed and partially dilapidated building lay derelict. The task was to rebuild it without turning away from the remaining structure.
Situated on a hill, the monastery had initially served as a defensive structure before becoming a place of prayer and inner contemplation, chosen by the monks in awareness of the absolute beauty of the place.
The architect also felt obliged to this grace and spirituality when reviving the building. The surrounding spectacle of the Alta Rocca landscape in the Corsican mountains had to be appreciated just as much as the nature that had grown into the ruins, which had slipped between the stones, as it were, to transform itself into an armour of plants as the last protection against complete collapse and erosion. Among other things, a fig tree had integrated itself into the façade - the wood, the roots had developed into a structure of its own, replacing the lime that could not withstand the ravages of time. Under these impressions, the architect decided to renovate the ruins and replace the decayed part with a copper plant that would become the territory's home.
True to her own conviction that building on ruins is "the embrace of the past and the modern, which do not betray each other", the architect used the original dimensions to give the former existing building back a lost dimension, held in place by a reversible copper frame, which is now itself doomed to change, to visually run, to form another skin and to develop its own history in the overall context of the monastery complex. In the process, the perforated copper skin underlines the religious character of the place by capturing and scattering the light like an old church window, but also partly reflecting it to return it to the sky in the context of a visually impressive natural spectacle.